Join thousands of experts who are using our app building software to have more impact with their skills
150k+
Consumer orders processed
3 REASONS WHY
Why sell your skills
in your own mobile app?
Financial independence
Generate predictable, recurring revenue from your content.
Reach a worldwide audience
Accessing the global app stores will open new business opportunities for you and will grow sales
Superior user experience
Native mobile apps will put your brand and products right onto your customers' phone.
Build your own white-label mobile app that will sell your skills
Create a global movement for your coaching business. Attract new leads to your brand using our app creator tools and improve your marketing funnels with a platform you control. 
Don't worry about dealing with developers. Passion.io is simple. We have a world-class support team who can lend a hand at a moment's notice.   
Get access to user data, proven templates, and step-by-step guides that help you find and retain customers. 
Give your clients a platform that will improve their lives and let them live their passion.
Build an app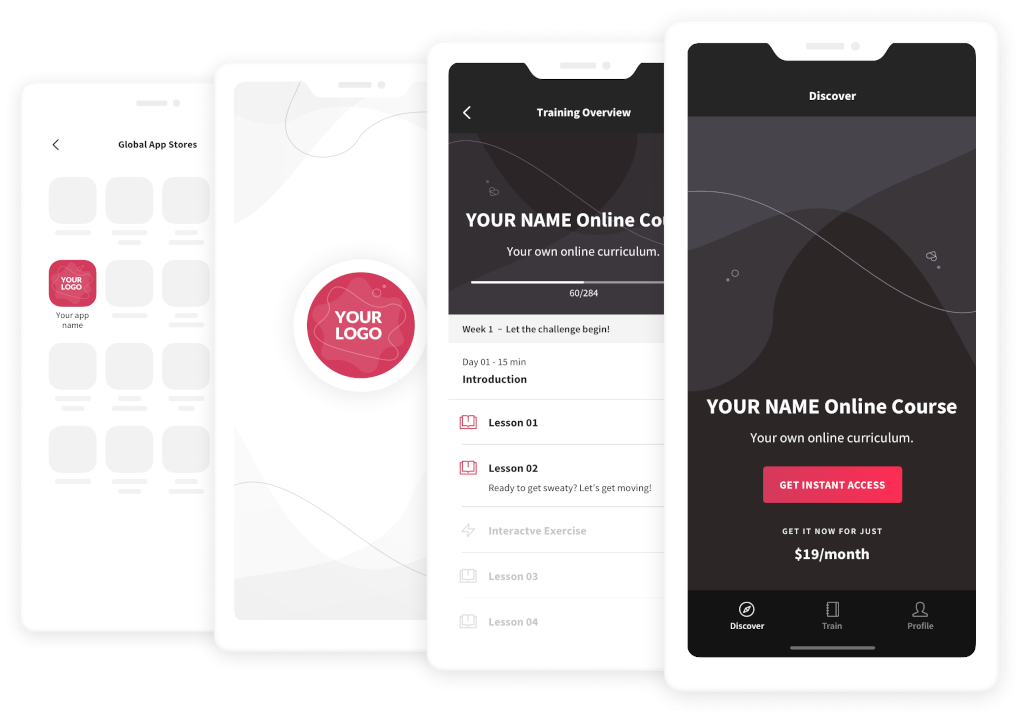 SEAMLESS INTEGRATIONS
Our mobile app builder can integrate with 150+ services
Passion.io uses integrations such as Clickfunnels, AppStore and GooglePlay in order to make your life easier.
ANYTHING ON YOUR MIND?
Your questions answered
No! We give constant updates to our software, add new templates and you get it all for FREE! Because Passion.io is on the cloud, when we make an update or add new features, they automatically show up in your account!
No. If you have existing content and an audience your road to success will be quicker, but we will provide you with the 30-day Expert Unleashed Challenge to launch and start selling successfully.
Yes! We have a first class support team who can answer your questions 24 hours a day, 7 days a week! Just click on the "support" link on the bottom of any of our pages or email to
instructor@passion.io
.
No! We created Passion.io so you wouldn't have to have a whole I.T. department to run your website! Just login, start clicking, and you can build your app from the members area!
You do! Any content (including your users) is owned by you.
Yes! Because Passion.io is hosted on the largest public cloud cluster in the world (powered by Amazon + CDN) we have virtually unlimited ability to scale in real time. Whether you send 100 visitors or 100,000+ today, it won't slow us down! Also, your apps are hosted in the Google Play Store and the Apple App store. If you have enough load to crash the global app stores, we would like to get to know you in person.
No. You can drag&drop everything
Yes! Security is our top priority, and we built Passion.io from the ground up to make sure your apps, subscribers, and members area are secure. You don't have to worry about staying up-to-date with "plugins" that can easily be compromised.
There are NO long term contracts or commitments. You can use Passion month to month, and cancel at any time you'd like!
To launch your app in the Google Play Store, you need a Google Play Store account. Google will charge you a one-time fee of $25 for lifetime access. For Apple, it is similar. Apple will charge you $8/month billed annually (i.e. $99/year) to have access to the Apple App Store.
You can get a refund for up to 30days after you have purchased.
Yes, we integrate with most of the top service providers like clickfunnels to make your app building process even more fun!
Google, Apple, Stripe will pay you directly. For Stripe, it's usually 3 days and for Google & Apple - about a month. If you subscribed within 2019 and are still one of our Developer Accounts, we pay out monthly. You can also use your own payment provider or shopping cart if you are subscribed to our "Ultimate" plan.
As with most "software-as-a-service" platforms, when you cancel your account, your data will become inaccessible, but don't worry, before canceling you have the opportunity to download csv files of your contacts and members or "pause" your account and we'll keep everything backed up waiting so you can come back again later!
Yes, we're pushing the apps straight into your own accounts with Apple&Google where you have 100% control. The apps will be connected to Passion.io so that you get all of the updates, new features, and so your apps won't break. You can also export your content, as well as your contacts anytime you'd like.
Still have questions?
If there's anything else you want to know before you get started with our app creator tools – just send me an email to instructor@passion.io.
The Passion.io team will be happy to help!